Newest Article; Oct., 29, 2014;

Warnings, Descriptions For Artificial 3-D Fusion Auto-stereograms, Magic Eyes Pictures;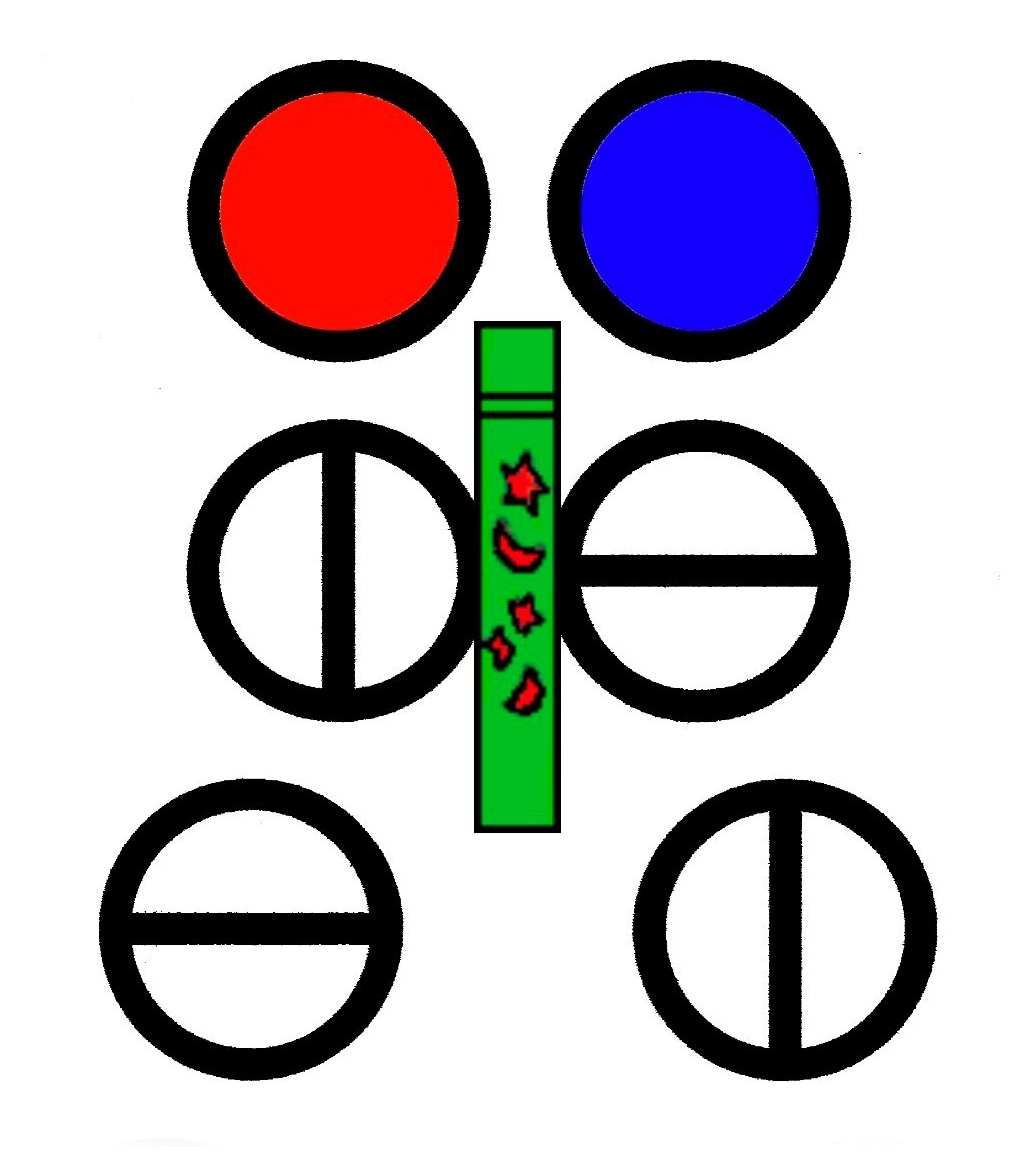 I do not teach, advise Artificial 3-D Fusion Eye Exercises, Also labeled as; 'Autostereograms, Magic Eyes Pictures, Merging Objects, 3-Cup Images...' It can cause strabismus, crossed, wandering eyes, impair the eyes convergence, divergence, accommodation, un-accommodation, the eye muscles and eyes movement, cause eye muscle tension, double vision, astigmatism and blur in normal eyes and more so if there is a slight or advanced strabismus or other eye, medical problem, imbalance of the brain hemispheres or other brain functions, neck injury-tension, mis-aligned skull bones, other conditions. The Artificial 3-D can make a slight strabismus condition worse. It causes strain, tension, stress and confusion in the brain, eyes, retina and eye muscles. It is not the Bates Method.
Artificial 3-D Fusion exercises are not necessary to obtain clear vision, normal eye movement. It was not taught by Ophthalmologist Bates. The Bates Method alone can cure strabismus; there are plenty of other activities, methods with true fusion, 3-D to obtain clear, balanced vision, coordinated eye movement in Dr. Bates book, magazine. Dr. Bates and modern Bates Method Natural Eyesight (Vision) Improvement teachers teach different activities, natural ones with true 3-D (Three-Dimensional vision, depth, distance... perception) for correcting crossed, wandering eyes 'strabismus' and amblyopia, unclear vision.
The picture on the right shows an artificial 3-D example; looking at the pen placed in the central field, between and before the 2 red-blue circles which are in the peripheral field, to create an illusion of a 3rd circle between them. (Many teachers make this even more abnormal by not using the pen; the eyes just stare into space. The pen brings at least some normal effect.) Thinking red makes the circle turn red. Thinking blue makes it turn blue. This strains, confuses the brain, eyes, retina and eye muscles. See the Artificial 3-D warning at; http://cleareyesight-batesmethod.info/id103.html and in our books. Dr. Bates has extra 'similar but different' practices that correct strabismus naturally. Search treatments for squint, crossed eyes, double vision... in his book Perfect Sight Without Glasses and Better Eyesight Magazine.
Look for the practice using a candle flame and the girl that learned to turn the eyes in any direction and avoid tension.
Some Behavioral Optometrists, Ophthalmologists teach forms of Artificial 3-D Fusion as activities, tests a special way for each individual person's strabismus condition and obtain good results. It should be used for strabismus (crossed, wandering eyes) only. Ask a Bates Method Behavioral Optometrist, Ophthalmologist for guidance if you have tried the Bates Method FIRST, worked with a Bates teacher and still need additional help. Follow your doctor's directions. Do not copy it from a book, website created by an unqualified person. The doctor's activity might help correct imperfect convergence, divergence, fusion, strabismus when applied correct. It must be practiced with the guidance of a Bates Method Behavioral Optometrist, Ophthalmologist. The eye doctor will teach the patient which activities are to be done for specific conditions, distances that the patient's eye movement, convergence, divergence, fusion... needs improvement. The doctor might have the patient practice with the 3-D image card placed at only one, two distances or at a variety of close, middle and far distances, fusing the two images into a 3rd by looking at one or a variety of different close distances/objects before the card and/or one or a variety of different far distances/objects beyond the card. (one distance at a time.) Distance of the card might be varied. Spacing between the two images might be at a variety of widths or limited. Merging, fusing images that are further apart or closer together being accomplished with advanced fusion training
if needed. How many are practiced, length of time each or only some of these activities, routines are practiced is determined by the student's condition; convergence or divergence impairment, eye, eyes in, out, up, down, angled.., degree of impairment and other eye-vision and brain conditions. Other old and new treatments, pictures... might be applied.
This is NOT a one size fits all, just carelessly thrown in a book, webpage for every person's treatment! Only a professional can prescribe a safe, correct, precise routine for each individual. Practicing too much or too little at a specific distance, at the wrong distance, on pictures spaced a specific width that's not needed, the wrong activity… can impair convergence, divergence and cause other eye, vision problems, astigmatism, cause and increase amblyopia.
Some teachers place the Artificial 3-D in their books, school to attract attention, seem professional. They teach it wrong. They should warn about the side effects. It effects how the brain works with the eyes, retina, eye muscles. It is not to be toyed with. Do not interfere with a child or adult's natural brain, eye development, function. It must be applied by a professional experienced in the function of the eyes, the brain, brain hemispheres, visual cortex, nerves, eye muscles and other functions. Accommodation, un-accommodation of the eyes and lens work-occur with the eyes convergence, divergence, fusion. All are affected, improved or impaired when the activities, tests are done correct or incorrect.
Most vision teachers do not teach this the correct way, do not warn about the side effects of doing it wrong because they cannot prescribe for every individual person's condition in the class, in books and usually do not know the entire, correct Behavioral Optometry treatment. Even a Behavioral Optometrist, Ophthalmologist needs the best training and experience, know exactly what part of the brain needs work. They also need to learn the Bates Method of Natural Eyesight Improvement so they can give their patient an option; true natural (Bates Method) treatment, or if needed, the artificial 3-D and be sure it's done correct, and apply both methods; the Bates Method and the professional Artificial 3-D. The artificial 3-D is a temporary treatment. The Bates Method is a permanent practice, an art, natural correct vision function.
The Artificial 3-D activities do produce a natural 3-D effect created by the eyes, retina, brain, left and right brain hemispheres, visual cortex. Seeing the correct fused image indicates the brain, eyes and eye muscles are working together, eyes are balanced-aligned. But; I call the activities Artificial 3-D because it is not the normal way a person uses the eyes-vision to see an object clear. The Artificial 3-D has the person staring into space between, and before or beyond 2 objects placed in the left and right peripheral field, merging these two into a 3rd object which shows an illusion of it being in the central field. In reality it is 2 areas/objects of the peripheral field combined and still in the peripheral. The person is using the peripheral vision to see with. Diffusion occurs. This prevents Dr. Bates #1 natural practice of central-fixation (true central vision). Shifting, natural eye movement is also prevented, impaired. Artificial 3-D causes strain, tension, confusion in the brain, eyes, dizziness and other side effects. Impairing the eyes natural movement leads to unclear eyesight.
True completely natural 3-D vision for healthy eyes, correct eye-brain function, clear vision occurs when;
looking directly at the object you want to see, directly at the distance the object is at, in the true central field with the mind, eyes 'mental-visual attention' on/at that object, distance. And; the central field, (the retina's fovea) 'visual-mental attention' are moving 'shifting' part to part upon the object. True natural fusion produces a completely natural 3-D vision created by the eyes, retina, brain, left and right hemispheres, visual cortex. You can determine true depth, distance of objects, time, speed to travel to, from one object to another... You see the object's texture, shape, all parts large to tiny, light, shadows.

Try the Bates Method first; relaxation, central-fixation (centralizing), shifting, switching (looking close and far), bead string, pens in a row (natural healthy fusion with true 3-D), phoria swings, memory and imagination, natural movement, long swing, left and right brain hemisphere activation and integration, color treatment and other natural methods are usually all that are needed. See the Switching, Bead String and other chapters in the books to test and correct the vision.