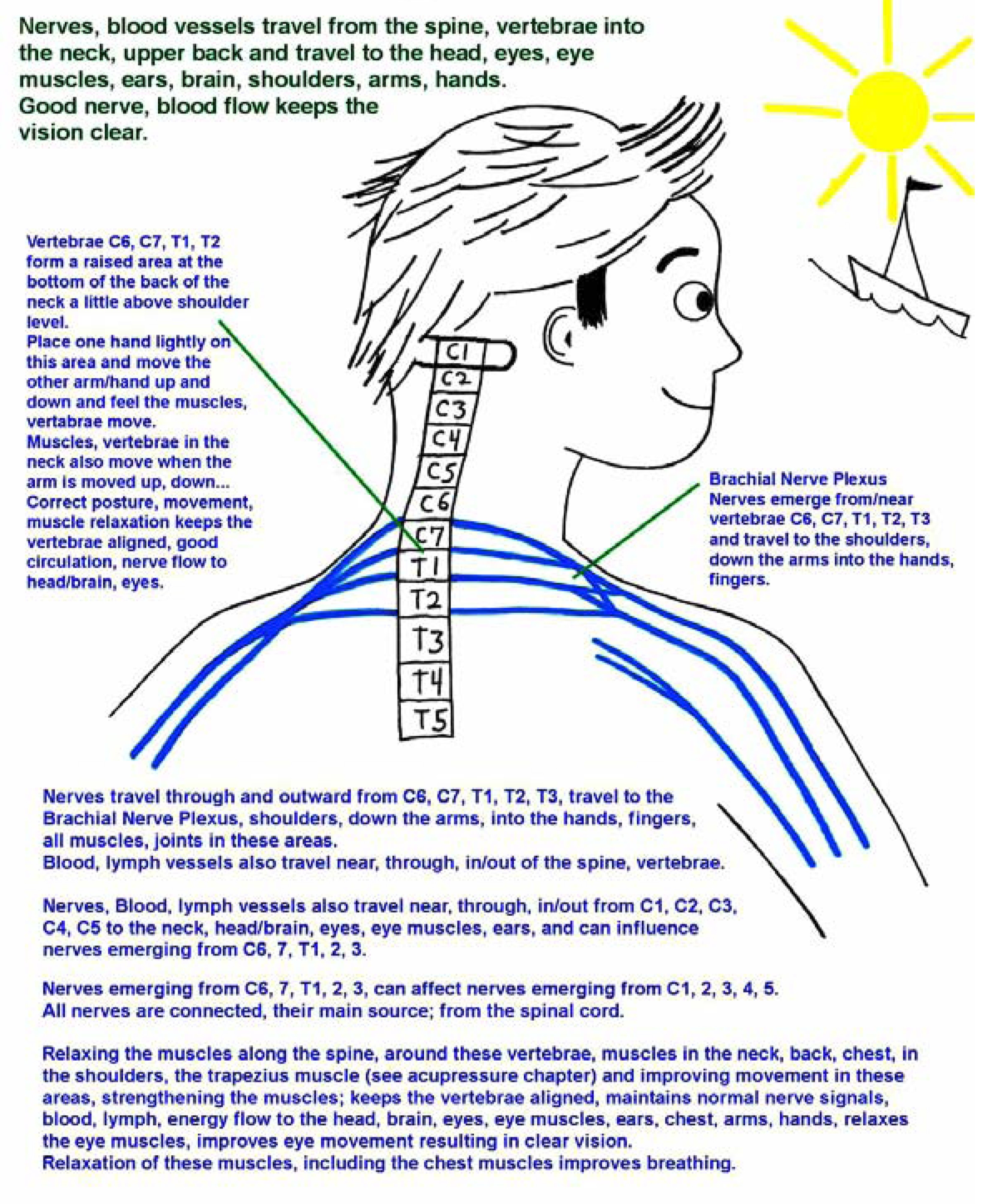 PICTURES FOR MANY PHYSICAL THERAPY EXERCISES, POSTURES, MASSAGE... FROM A LICENSED THERAPIST ARE AVAILABLE IN A FREE E-BOOK
.
Click Here


This chapter is part of;
Chiropractic Treatment Vs. Physical Therapy, Massage.


THE EXERCISES STRENGTHEN AND RELAX THE BACK, NECK MUSCLES AND ALIGN VERTEBRAE IN THE BACK, NECK.

THIS IMPROVES NERVE, BLOOD, LYMPH, ENERGY... FLOW IN THE BODY, TO THE BRAIN, EARS, EYE MUSCLES, EYES AND IMPROVES CLARITY OF VISION.
The exercises on this page were taught to the author of this website/book by a licensed physical therapist to cure tremors, shaky hands and in later years more exercises were added to help heal a neck, spine injury. For the earlier neck problem before the injury; The honest chiropractor and my ear doctor listed in the 'Path of Light Rays' chapter stated I had a very stiff neck with limited neck movement, neck, shoulder, upper back muscles tense.
The tense neck muscles were pulling the vertebrae slightly out of alignment and the tense muscles and vertebrae were placing pressure on the nerves in the neck, shoulders, arms, hands resulting in numbness, shaky hands. They sent me to a physical therapist.
The exercises the therapist taught me and the muscle massage they provided strengthened, relaxed the muscles in my neck, shoulders, arms, hands.
Blood, oxygen, lymph flow to these areas returned to normal.
The relaxed muscles enabled the neck vertebrae to return to correct alignment.
Vertebrae and muscle pressure on the nerves, blood vessels was removed and the numbness, tremors in the arms, hands was removed.

This was done by physical therapy and massage only. Chiropractic adjustment was not needed. I was also prescribed two bananas per day for potassium, a natural vitamin/mineral food supplement, increased water consumption.
I was advised to avoid aspartame in diet sodas, candy, cake, caffeine, tea.

In later years I went to a chiropractor just for back pain. They were dishonest. They purposely placed my neck, spine, hip bones out of alignment causing vertigo and many other health problems including eye/vision, hearing impairment. Then they tried to sell me 240 treatments and more for life saying I will never be cured.
I do not recommend chiropractic.

Natural, honest doctors repaired the damage 95%. Turns out the back pain was only tense muscles. It was corrected in 20 minutes with professional massage on the muscles only. Years later, no problem.